Article on Sao Paulo's music scene for the May 2011 edition of The Wire.
Global Ear: Sao Paulo
Sao Paulo's musical landscape is dominated by SESC (Social Service of Commerce) centres. In all, there are 30 of these Government funded yet privately run places across the city: hubs of activity with gyms, swimming pools, libraries, galleries and, most importantly, a variety of theatres and auditoriums. These venues play host both to newcomers and established artists such as Tom Zé, Vitor Ramil and Adriana Calcanhotto. And making rare visits to Brazil, the likes of Pharoah Sanders and Yusef Lateef and Mulatu Astatke, also played at SESCs. Events at such centres tend to start at 8 or 9pm and run for a couple of hours. In contrast, at nightclubs like Studio SP, the several hours' wait between the support act and the headliner stretch concerts deep into the night, partly to raise beer sales. Daniel Ganjaman, whose group Instituto have a monthly residence at Studio SP, is trying to fight this trend by starting the next Instituto show at midnight instead of the standard 2am.
The emergence of SESC as a major promoter, coupled with a growing openmindedness to different types of music, has resulted in an emergent alternative music scene. A series of concerts at CCBB labelled Sai da Rede highlighted new artists such as Tulipa Ruiz and Lulina. Eschewing typical Brazilian rhythms, their music edges closer to Western pop or a tropicália-esque hybrid. Lulina recorded nine self-released CDs before finally signing to a record label for 2009's Cristalina. Crucially, in order to make this happen, it was necessary for her group to move from Pernambuco to Sao Paulo. In contrast, Tulipa seemed to achieve instant success: her debut album was chosen as best Brazilian album of 2010 by Rolling Stone. Much of her rapid rise can be put down to her online exposure, which is hugely pronounced for a new artist still unknown in many parts of Brazil.
Both Lulina and Tulipa reflect a new, more exploratory and inclusive approach to MPB (Brazilian Pop Music), which is becoming increasingly difficult to define stylistically. This notion is furthered by Karina Buhr, who released her debut album Eu Mentí Pra Voce in 2010. Her music incorporates Krautrock, baile funk and electronica, but the years she spent performing percussion in the north east of Brazil and working in theatre are more evident when she plays live. At a recent SESC Belenzinho show, she stamped every song with its own identity, through her outrageous dancing and the use of homemade shakers, chairs and mic stands as props.
Other artists who have made the move to Sao Paulo include Cidadao Instigado (helmed by Fernando Catatau, currently in Karina Buhr's live group) and Lucas Santtana, who splits his time between here and Rio de Janeiro. Cidadao Instigado share certain traits with Marc Ribot's Cubanos Postizos, in the way they mould native rhythms with an avant garde aesthetic. Santtana takes an altogether different approach, changing style from album to album. He plans to follow sets of dub, guitarrada and baile funk with a Tom Zé tribute later this year.
Santtana's restless cosmopolitanism places him at one remove from the MPB artists discussed earlier, bringing him closer in spirit to the scene revolving around the group Hurtmold, venues like +SOMA, and record labels like Desmonta and Submarine. Hurtmold are commonly tagged post-rock due to their instrumentation and predilection for extended song structures, but their members are involved in a huge number of extra-curricular projects. These include Marcelo Camelo's backing group, Bodes E Elefantes, M Takara 3, Prefuse 73 and Sao Paulo Underground (alongside Rob Mazurek). Guilherme Granado's Bodes E Elefantes have so far constructed two studio albums of experimental electronica. Live, they are a totally different prospect, playing vibes, bass, synthesizer, cavaquinho, drums and saxophone to produce a highly rhythmic, textured thrum.
Hurtmold drummer Mauricio Takara is one of Sao Paulo's busiest musicians, playing in the aforementioned groups and many others from home and abroad. He also works with Kiko Dinucci and Rodrigo Brandao, who represent a new breed of artist in tune with the Afro-Brazilian religion of Candomblé. Kiko's in-depth studies of Brazil's musical forms allow him to switch effortlessly between styles. But his determination to keep traditions alive hasn't curbed a fearless approach to experimentation.
Meanwhile, Brandao, an MC with Mamelo Sound System, paradoxically breaks the more traditional Brazilian rap mould, by channelling influences from Brazil's indigenous peoples into his flows. He is not alone in his attempt to shake the homogeneity of Sao Paulo's admittedly strong hiphop scene. Currently recording a new album with producer Daniel Ganjaman, Criolo is taking the form in a new direction, by adding to it a variety of instrumentation as well as visceral examples of traditional Brazilian music.
This blurring together of hitherto segregated music scenes is an important development in Sao Paulo. It also carries over into concert programming. This year has already seen Mauricio Takara playing with Yusef Lateef at SESC Pompeia, Kiko Dinucci at Casa do Mancha, McRad at +SOMA and Bodes e Elefantes at Studio SP. Barriers are being burned.
This article originally appeared in the May 2011 edition of The Wire.
There are accompanying MP3s for this article which can be found on The Wire's website.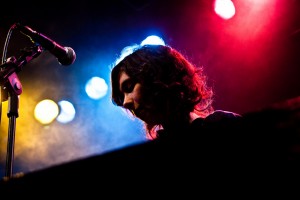 Photo by Paula Rúpolo