This album review was published in Time Out Sao Paulo (March 2011) though may have appeared in a slightly different form.
Album Review: Blubell – Eu Sou do Tempo que a Gente se Telefonava
(4 stars)
YB Music – Released: 21st January 2011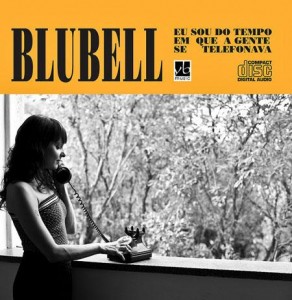 It's taken Isabel Garcia (aka Blubell) five years to follow-up her first album Slow Motion Ballet, yet her voice has never been far away in her native São Paulo. As well as singing in the jazz band À Deriva she has featured on countless advertising jingles as well as providing the theme song for the Brazilian TV comedy Aline. None of these things should be too surprising once you listen to this album, a mixture of jazz and pop which is both polished, maybe too much at times, and catchy. It seems those day jobs providing jingles has given her a special gift, as proven by the fact that I can't get the melody to "Chalala" out of my head. I was so sure I'd heard it before that I almost shorted my brain trying to work out who recorded it first before realising that the whole album is self-penned, with just a couple of co-conspirators helping out on the odd song.
Blubell pulls this trick of instant-familiarity on many of the tracks here, such as the prowling Shirley Bassey jazz of "Pessoa Normal" and opening track "Musica" which despite featuring a kazoo manages not to irritate. Except for the odd flash of bossa nova guitar this is an album more in tune with new British artists such as Paloma Faith and Eliza Doolittle, adding much-needed swing and suave to pop music, than her Brazilian counterparts, yet could well be the sound of the Brazilian summer.